One game…one referee. Read on below for great information about the Iowa Referee Committee (IRC), how to get involved in the game by becoming a referee, and how to ensure your credentials are updated in accordance with annual requirements.
The Iowa Referee Committee (IRC) consists of an Executive Committee, at-large members, and representatives from Referee Associations and Officials Organizations across the state.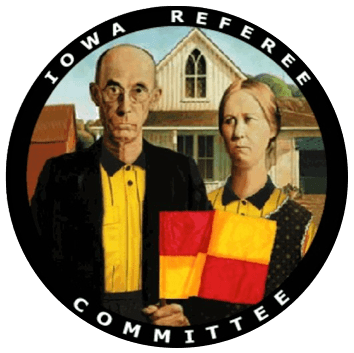 About the IRC
In 1969/1970, the Iowa State Amateur Soccer Association (ISASA) and the Iowa State Youth Soccer Association (ISYSA) were formed and recognized by the U.S. Soccer Federation, with Referees governed by the "State Referee Administrator". The IRC is responsible for promoting and implementing U.S. Soccer's referee initiatives and programs in support of all affiliated members and competitions within their jurisdiction.
This includes organizing and executing in-person grassroots referee courses. If you want in the game, continue navigating to the section below that details how to become a referee!
Committe

E MEMBERS

Chairperson Michael Vosatka (email)
State Referee Administrator Rob Sorey (email)
State Youth Referee Administrator Kevin Stapleford (email)
State Director of Assessment Lance Messman (email)
State Director of Instruction Alec Clark (email)
State Director of Assignment Lou Agocs (email)
State Referee Registrar Tyler Turner (email)
Secretary Rich Voyek (email)
Treasurer Jeff Birdsley (email)
High School Liaison Mike Lucht (email)
State Director of Mentoring Dallon Christensen (email)
Iowa Soccer Youth Representative Bonnie Larson (email)
AYSO Alan Tribble (email)
CVSOA Phil Watson (email)
DASOA Paul Lassance (email)
ECISOA Vacant
Greater Iowa Chapter NISOA Jim Albertson (email)
MISOA Ray Schwichtenberg (email)
SSOA Vacant
SWISOA Sarah Curry (email)
Iowa High School Athletic Association Todd Tharp (email)
Iowa Girls High School Athletic Union Gary Ross (email)
REQUEST TO HOST A COURSE

The IRC will make every attempt to honor requests from Organizations, Clubs, Referee Associations, Assignors or Registered Instructors as the schedule permits.

Basic requirements to host include:

Most instructor-led In-Person Grassroots Referee Courses last a half day, e.g., 9:00 a.m. to noon on a Saturday.
The Clinic Sponsor (you) will need to provide a Classroom with tables and chairs and a field or area where on-field exercises can be held.
The Classroom may also need a white board or flip chart easel and paper.
The Instructor may require a Projector and Screen for PowerPoint presentation / slide projection.
The Clinic Sponsor is responsible for advertising the course and recruiting students.
The Clinic Sponsor must guarantee at least 10 paid participants. If not, the Clinic Sponsor must make up the cost difference.
A club/organization representative must be onsite during the class.

Submit your organization's request
Becoming a referee: before, during, after, annually!
Upcoming Courses